After some chatter on Facebook, I thought I'd give it a try.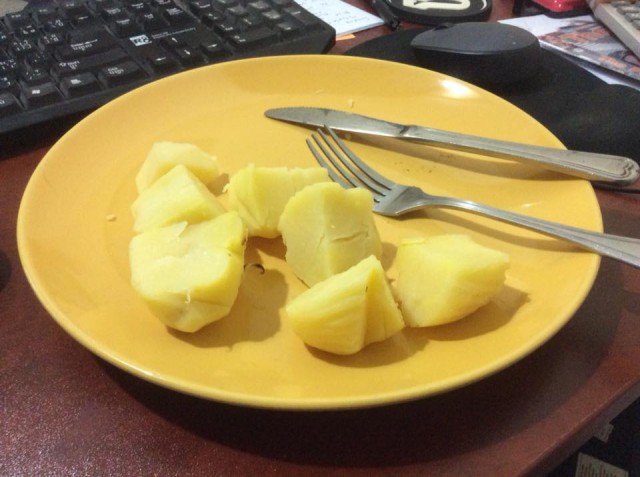 Two weeks of potatoes. 🥔 (Boiled, sliced, mashed).
Courtesy Penn Jillette's book 'Presto'! Also adopted recently by Kevin Smith.
It advocates going for a bland, one-item diet for two weeks to 're-set' the palate.
No oil, salt, sugar, fat.  Enough calories to fill you up, but low enough for your body to burn your own fat.
My fat, cholesterol levels and sugar levels? Just at the level where my doctor says I need to take active measures. So this was a welcome start.
Potatoes? A pretty good choice. Starch / fibrous veggies and fruit work well in my system.
However: I did have work deadlines that could not be missed. So caffeine was out of the question. And black coffee upsets my stomach.
So: mornings were coffee / bananas / potatoes. After that? Plain boiled potatoes.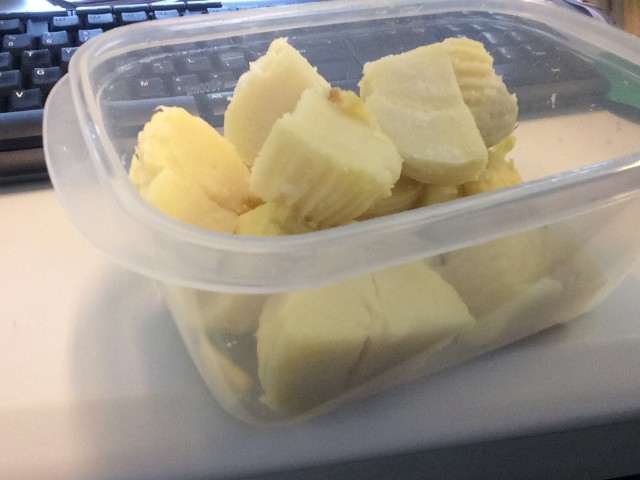 Penn Jillette's book recommends re-setting the palate by cutting out sugar entirely. So I couldn't avoid sugar and milk in my coffee. I needed to hit some targets at work. Low calories generally means lower energy.
It also recommends long periods of fasting. Again, not an option for me. My stomach gets upset very easily so I stuck to regular meal times. Otherwise I would have been game to be more radical in my approach.
I should mention that I had one work lunch during this time, as well as 3 separate 'vegan bowls' at 'Vibe' restaurant here. (Lots of veggies/fruit and some nuts.) Plus one vegetable thali.
After two weeks? I was down a few pounds. I actually bought a new digital scale so I could have fun tracking my weight.
Things I've learned:
– Did I re-set my taste buds to try new things? Mmm… not really. However, I'm more grossed out about oily and salty foods, and how much I tend to eat them for snacks.
– Low calorie means lower energy. At least for me. But not super low. More like 'missed an hour of sleep' low. Additional caffeine helped.
– Am I more aware of how much salty, fatty, sugary junk food I eat? Yep. I will eat ANYTHING but I don't have to eat it all the time. It's time to experiment and try more sensible plant-based food. That shouldn't be impossible.
– I will eat anything on hand when I am hungry. I do think that 2 weeks away from salt, oil and fat (plus minimal sugar) was an excellent change. But this is quite clearly a 'fad' diet.
– Cambodia is full of portable/takeaway food. I don't do a lot of cooking. I think of meals practically as 'units'. I'm more interested in the people I'm eating with or what else is going on when I'm eating. (Reading, listening to news, watching TV.) Need to re-think that.
– Vegan/Vegetarian doesn't necessarily mean healthy. Veganism/Vegetarianism is more of a moral stance. A salted potato chip fried in oil is 'vegan'. It's more about tailoring your diet for what your body personally needs.
– Caffeine intake is also something to watch. I'm going to go off coffee / caffeine 'cold turkey' over the 1 week 'Khmer New Year' holiday this coming week. I might switch over to tea after that.
I would consider doing a 'mono' diet again, but probably with a protein supplement and some 'cheat' days. (Without protein there is risk for loss of muscle mass.) A 'mono' diet simply won't reset my personal taste buds; I have too vivid an imagination and too strong a memory. I think a better way to eat healthy is to explore new flavors in the vegetarian / nutritional food arsenal. While I have the capacity to make fast change (and that's nice to know), slow and sustained change is the real goalpost to aim for.
For my veggie/vegan friends, I'd say that overall it's not about turning away from unhealthy food; it's more about making good eating choices attractive.
(Cheating with Vegan veggie breakfast)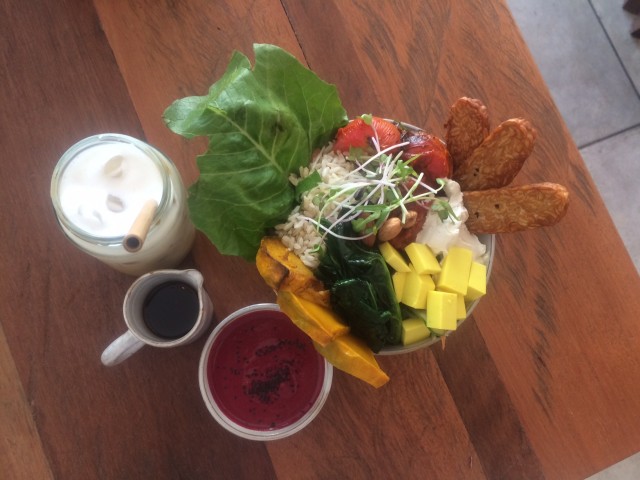 Just as I said 'case closed' on my two week experiment? My co-workers surprised me with a big chocolate cake (prior to my birthday tomorrow).  Good timing.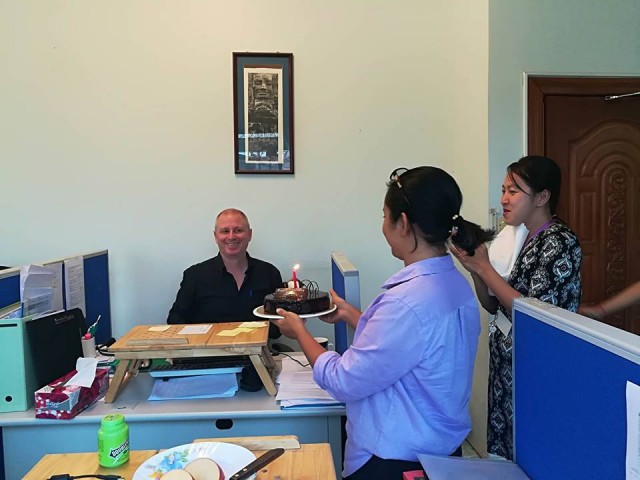 Postscript:
The following week (Khmer New Year) I went off coffee and caffeine. ☕
(Since it was a holiday week it was a good time to do it; I knew it would have less impact on my work.)
I would say that was clearly a harder challenge. And no, I'm not addicted at all.